As you grow older, you may need added assistance for day-to-day living. It's likely you'll require some form of long-term care if your Activities of Daily Living (ADLs), like eating or walking, are a struggle to independently perform.
However, long-term care is expensive. To help cover the cost of long-term care, long-term care insurance is available. Long-term care insurance covers various services and supports, but you may find some insurance companies unfairly deny your claim or increase premiums.
While most long-term care insurance providers will pay you a daily amount to help cover the cost of services, you may experience some trouble. If you have trouble receiving long-term care benefits through your insurance, you can hire a lawyer to make sure you receive fair coverage.
What Is Long-Term Care Insurance?
Long-term care insurance covers personal and custodial care for people who have trouble performing Activities of Daily Living (ADLs). These policies reimburse policyholders with a pre-selected amount of money each day.
There is a wide range of care options and benefits available under long-term care insurance policies. This allows you to select services that are the best fit for your situation, including which services you need and where you'll receive them.
Long-Term Care Insurance Coverage
Long-term care insurance policies are comprehensive and allow policyholders to use benefits in a variety of settings.
Long-term care insurance offers benefits to help cover costs in:
your home
adult service centers
Respite care
Hospice care
nursing homes
Alzheimer's special care facilities
assisted-living or residential care facilities
If you're being cared for in your home, many long-term care policies cover services that make care easier in a home setting.
Long-term care insurance is likely to cover these services in your home:
nursing care
assistance with personal care, like dressing or bathing
physical, occupational, and speech rehabilitation therapies
Other policies may cover additional homemaker services like meal prep, housekeeping, and other services that maintain a home. Keep in mind, these additional services may only be available if they're combined with personal care needs.
Understanding The Cost Of Long-Term Care Insurance
Different long-term care insurance policies vary, but the cost of this insurance is based on a few factors.
Factors that determine the cost of long-term care insurance include:
your age when you purchase the policy
the type of policy and coverage you select
the maximum payment amount you need your policy to cover per day
the maximum number of days or years that your policy will cover
whether you choose optional benefits, which could increase the cost
The maximum amount of days multiplied by the monetary amount per day calculates the total cost your policy will cover. You should also be aware that once you buy a policy, the insurance company could raise the premium, which will affect your monthly payment.
Long-Term Care Insurance Limits And Exceptions
It's good to know that some long-term care insurance policies place a cap on how much they'll pay and for how long. On average, many policies cover the cost of long-term care between two and five years. Other policies offer to pay long-term care for as long as you're alive.
If you're already eligible for or receiving long-term care services, you may not qualify for coverage. Although Medicaid and Medicare coverage doesn't cover long-term care, long-term care insurance policies are supplemental to these plans, and you could receive limited coverage in some circumstances.
How You Receive Long-Term Care Insurance Benefits
Before you can receive benefits from a long-term care insurance policy, you must meet eligibility requirements called "benefit triggers," as well as allow some time to pass in an "elimination period."
Benefit Triggers
Benefit triggers allow the insurance company to make sure you're eligible for benefits. This is determined by an assessment carried out via a social worker or nurse. The assessment is defined by Activities of Daily Living (ADLs).
Although each policy is different, many policies require that you need help with at least two of the six ADLs to be eligible for benefits.
ADLs include:
bathing
dressing
moving to and from furniture, like a bed or chair
eating
the ability to control bowel and bladder function (continence)
Elimination Period
An "elimination period" is a set amount of time that must pass after a benefit trigger and before you can start receiving benefits. This means you must choose an elimination period, like 30, 60, or 90 days, when you purchase the insurance.
Keep in mind you must pay for any long-term services on your own before the elimination period ends. Be sure to understand your policy because many policies demand you receive long-term care services during this period, whether the care is paid for by you or someone else.
What To Do Before Filing A Long-Term Care Insurance Claim
To make sure your long-term care insurance claim isn't denied, there are a few proactive steps you can take before filing a claim. Although most insurance companies will pay out eligible clams in good faith, some may use whatever tactic they can to deny or undervalue your claim.
Understand Your Long-Term Care Insurance Policy
It's unfortunate that many seniors, as well as their family members caring for them, spend months or years trying to get insurers to cover the cost of services. This is why it's so important to understand your policy, read the fine print, and be aware of traps that deny your claim.
Once such a trap is the elimination period. Some plans only count the days you or your loved one receive services. As an example, if a nurse only visits three times a week, then some policies only count these days in a 60-day elimination period, extending your wait time to several months.
To avoid problems, file your claim as soon as you think you'll need benefits. Because the insurance company is likely to send a nurse or social worker to assess the situation, finally receiving benefits can take a significant amount of time.
Confirm ADL Assistance With A Doctor's Report
Insurance companies must see documentation that you or your loved one has trouble performing at least two of the six ADLs.
Your PCP or healthcare provider should confirm, in writing, that you or your loved one has trouble performing certain tasks. This can be an email, printed letter, or another document that can be sent to the insurance company.
Make sure that the doctor writes about conditions that meet the eligibility requirement outlined in the insurance policy. If you need help bathing for example, have the doctor write that you need assistance with bathing in their report.
Confirm Caregiver Requirements
If you need to hire a caregiver to implement covered services, then make sure you understand what type of aide the insurance company will pay for. Some policies state that only licensed caregivers working for an agency are covered, while others pay for personal care aides.
You could be in a bad position if you hire someone who isn't covered under the policy. Make sure you track or keep a log of all the communication you have with your insurance company. If you feel like it's taking too long or your claim is denied, you should hire a lawyer to help.
What To Do If Your Long-Term Insurance Claim Was Denied
If your long-term insurance claim was denied or is taking too long for benefits to kick in, consider consulting with an insurance claim lawyer. Long-term insurance claim policies may not cover everything you believe they cover, and they may also have strict standards or requirements.
If you feel like you were misled or didn't fully understand your policy, a lawyer can help you determine your next best move.
Long-Term Care Insurance Lawyers Serving The U.S.
Florin|Roebig is a multistate law firm that handles cases involving long-term care insurance denials, undervalued payouts, and eligibility requirements. We have handled many cases involving long-term care insurance disputes.
Long-term care is stressful, expensive, and difficult to understand. It's crucial to make sure you understand these wide-ranging policies. If you feel like your claim was unfairly denied, we can help make sure you receive benefits to cover the costs of long-term services.
We Are Nationally Awarded Lawyers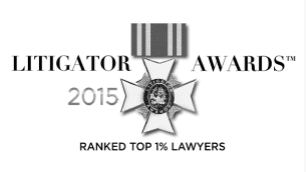 Contact Us Today To Start A Free Case Evaluation
Long-term care insurance disputes can drag out, but you still might be hesitant to hire a lawyer. To help you decide your next move, we offer free case evaluations. To learn more about long-term care insurance claims, or to start your free case evaluation, please contact us today.